We are a small and effective sprint racing sled dog kennel focusing on high quality vs. high quantity in training and dogs breeding our own vs. purchasing from various kennels. We compete in a variety of sleddog sport events including; 6-dog mid-distance, bikejoring, scooter, canicross, 6 and 4-dog cart/rig, 10, 8, 6, 4-dog limited class and Open Class sled. Our dog breeds are Eurohounds and Hound Crosses which are consisted of English Shorthaired Pointers, German Shorthaired Pointers, Greyhound, and Alaskan Huskies. Find out more about our breeds HERE.
Our amazing athletes also give dogsled rides and tours!
Head Coach – Tone Coughlin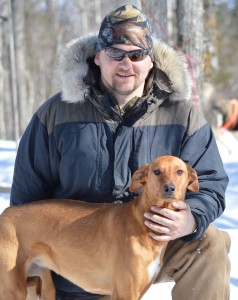 Tone Coughlin has been working with athletes since 1998 with his first coaching job at the Marshall School helping out with the cross country ski team. He later moved on to coach swimming, as the head coach of the North Shore Swim Club, Cloquet-Esko-Carlton Girls Swimming, and one of the founders of Duluth Marhsall Boys Swimming. During that time he raced (1997-2009) as an elite amateur cyclist (road, track, cyclocross, mountain) all over North America and a few races in Central America competing with riders that raced in the Tour de France. He also is competitive at running, triathlon, swimming, and xc-skiing completing over 700 events.
His first dog was Helena a retired Alaskan Husky.  He picked up Toivo in 2006 as an 8 week old puppy who later started skijoring and bikejoring with him. In his free time he enjoys photography, archery hunting for big game, grouse hunting, fishing, spending time with the dogs, and training himself.
Tone is an independent marketing and promotions professional specializing in web design with 18 years of experience.
Community Involvement (Volunteer)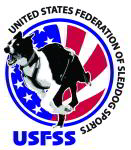 Handler – Rachel Hobbs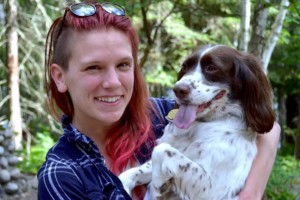 Rachel is a current Veterinary Technician student and President of the Vet Tech Club at Duluth Business University. She has always had a love for the outdoors and animals, especially dogs, which brought her to us. She plans to specialize in wildlife rehabilitation and hopes to have her own sled dog team someday.
When she's not training she can be found on the Superior Hiking Trail with her dog, Jade.
Team Manager – Toivo – 11 y/o Alaskan Husky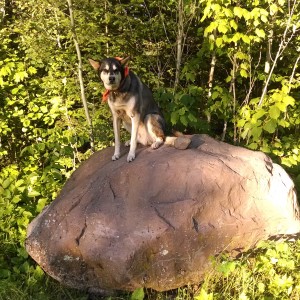 Toivo is a distance/mid-distance bred athlete with littermates that have finished the John Beargrease Sled Dog Marathon with Colleen Wallin. We got Toivo as an 8-week old pup from Ward and Colleen in 2006 and started bikejoring in the winter and skijoring when he was just under a year old. He lives in the house with Jaana and helps us train the puppies free running and harness training. He loves to go grouse hunting and is an excellent swimmer.
We are located just 30 minutes north of Downtown Duluth and 30 minutes west of Two Harbors. Use this Link for our address.
If you are interested in being part of our team, please feel free to Contact Us!