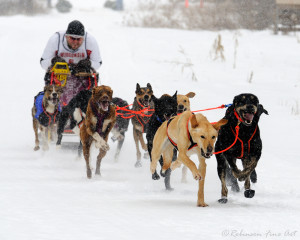 Updated on April 21, 2017
Sometimes family and friends wonder how much does it cost to put together a sled dog team.  From what I've experienced being around the sport for 7 years, it varies dramatically!  There are broad ends of the spectrum, you can spend as much as you want or as little as you want which is true for a lot of things in life.
I chose to go the cheaper route, to see if I would like it or not.  Mushing is not for everyone, especially racing.  I believe there are more mushers that have dogs for working or for fun rather than racing dogs.
I'll share with you just the cost of the dogs, which is the exact price I paid to attain the athlete.  Why, because I think some people get overwhelmed when they are starting, thinking that they can't afford a dog team.
Toivo – $250
Valor – Free on CPU trade
Seppo – $100
Magnus – $400
Jaana – $250
Ari – $250
Angel – Free
Barracuda – Free
Helena – Adopted
Total – $1250 for seven working dogs, in September of 2010.
What is the team worth? I've learned from other mushers to price that dog for what it costs to replace them. This is an honest estimate based upon my reasoning and limited experience. Most mushers overprice their dogs for whatever reason, I'm not sure.  But there are some mushers out there that have good honest prices.
Toivo – $800 – Well, I would never ever sell him. He's neutered and he's my pet. Toivo is not super fast but he's a gee/haw leader and goes forever. He also keeps the younger dogs in line when they are learning. I tend to pair him up with the youngsters.
Valor – $5,000 – I've never had a better dog, leader and performance wise. Jim Benson said he would sell me his unproven brother for $2000 so that's what I am going on. Valor is a proven champion, so he could be worth more. He also produced some nice pups in June of 2012.
Seppo – $3,000 – He's the kind of dog that I can hook up and forget. Leader or follower, he's fast, bomb proof, and a key dog on the team.
Magnus – $800 – He's an Alaskan, nuf said. Runs great in team or wheel, hook up and forget too but don't run him in lead. Sometimes he disappoints up there. But then again, he's a proven champion too!
Jaana – $4,000 – How many female leaders have you had at 11 months old?
Ari – $2,000 – Fast, attitude, great figure. This boy has tremendous potential running point at 11 mos and has never looked back. He's the fastest dog in our kennel and has proven to be an awesome stud producing an amazing litter with Grace in the summer of 2013.
Angel – $300 – I haven't run her enough yet to know if she's going to work. She's a proven brood bitch and runs lead and that is all I have to go on.
Total – $15,900 for seven dogs, IF I had to replace them.
I've heard of dogs selling for way more than that, so believe what you will. I guess it's all relative to your goals anyways!
There are many other costs associated with owning a dog team you must factor in. These include:
Training and Racing Equipment – atv, sleds, ganglines, harnesses, fuel, snaps
Racing – entry fees, travel, hotel
Transport – dog truck or trailer
Kennel Supplies – dog houses, stakeouts, poop scoops, fencing
Vet Care – vaccinations, injuries, surgeries, sick dogs, etc.
Food – meat, kibble, supplements, water
Kennel Help – handlers, family, volunteers
Memberships – local, promotional, club
">
revised on April 21, 2017
Since I have written this short article, a LOT has changed for us. We have been out on our own since April of 2012 relocated 20 miles north of Duluth, MN seated on 40 acres of private property just about in the middle of the woods. We only had 8 dogs coming out of Windigo Kennels and Outfitters, hardly anything to put together a team let alone a 10 dog racing team.
In 2012 we bred the Valor X Jaana litter which produced three bitches and six dogs. We sold most of the pups to other mushers or skijoring enthusiasts some for as much as $400. We kept four of the athletes from that litter.
In 2013 we bred the Ari X Grace litter which produced six bitches and two dogs. What an amazing breeding! In my short career of working with 100+ sled dogs, I have NEVER seen such speed, endurance, and drive from any dogs such as these. The future is looking promising for these girls if we can supplement them with some power athletes.
We didn't breed any litters in 2014 which now looking back at it was not a good idea it didn't set us up well for the World Championships on Snow in Haliburton, Ontario – 2017.
The 80's Hairband litter was born in June of 2015, Ari X Mindy which currently puts us at 35 dogs. They were harness broke this spring and are doing well in free running and training with some showing leader potential.
In 2016 we had two missed breedings with Jaana and Crema. Joan came into heat at the beginning of September and was bred to Ari and Valor. We had 8 pups and lost the first female born. Only one pup came out of Valor the rest were out of Ari.
I'm not sure if we will breed any more dogs in 2017 as the kennel is at 35 athletes right now, more than enough for one person to take care of.